Post by Søren Oden Karkaroff on Nov 5, 2008 3:20:34 GMT -5
SørenOdenGreyback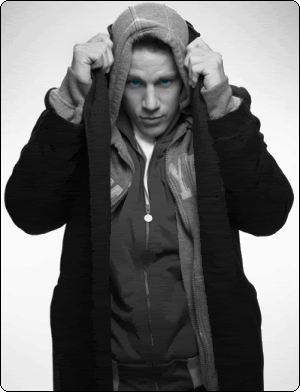 'cause this is the only prayer i know
BASICS[/center]
NICKNAMES
Sør, Thor, Woofy (though no one outside the pack calls him that).
DATE OF BIRTHAGEYEARGENDERRELIGIONSEXUAL ORIENTATION
SPECIAL ABILITY, BREEDBLOOD STATUS
Søren's biological family were pureblood descendants in the Karkaroff line. After he was abducted as a small boy, he adopted his new father's last name.
OCCUPATION
When Søren isn't playing human at school, he's a prime enforcer and the second-in-command of his pack.
WAND
Eleven and a half inches, oak with dragon heartstring.
PET
None. Søren doesn't trust himself with the care of another creature.
a new, improved modern way to feel
[/B][/COLOR]
PERSONALITY[/center]
FIRST IMPRESSION
Søren is an enigmatic ghost. If you weren't looking for him specifically, you would pass over him completely. His strong Scandinavian features tends to be cast over in anger, and it is especially reflected in his cold blue eyes. He seems distant, and people who try to speak to him usually get a blank stare, a contemptuous look or no reaction at all. Once Søren warms up to you however, he is completely the opposite of how first impressions set him up to be.
SELF IMAGE
Søren is overwhelmingly obsessed with his idea of "normalcy." He does and will do anything to make himself just another face in the crowd, separating himself from the unkempt and often bloody members of his pack. Though Søren has been a werewolf almost all of his life, he battles with shame, anxiety and deep seated fear everyday. He hates the fact that he has to feel this way, but his fear his discovery and being murdered takes over. To prevent himself from changing, he started taking the Wolfsbane Potion in his fourth year, and eventually became addicted. He hides his potion in a well hidden flask under his robes. Søren prays for the day he can accept who he is, and be who he is, without persecution.
GOOD TRAITS
Loyalty - Søren is the most loyal person you could ever meet. He would never double cross someone close to him. Once you have Søren on your side, he is loyal to you for life.

Honesty - Søren will tell you like it is. No sugarcoating, no lies. Even when it's his hide on the line.

Protective - Søren protects his own. He would willingly take The Killing Curse for his friends and be glad to do it.

Loving - Søren dotes on and spoils those that he loves, especially of the female variety. He is very nurturing and has a lot of affection to give.

Patience - Søren will endure hardships or difficult situations for long periods of time without complaint. Fenrir used to tell him that he had the "patience of a saint."
BAD TRAITS
Drug addiction - Death is the result for whoever gets between Søren and his Wolfsbane.

Introversion - Søren's tendency to be a loner alienates him more than he thinks. It also prevents him from developing good relationships with others.

Irascible - Once angered, Søren sees red and his anger isn't sated until the taste of blood is on his tongue.

Merciless - Søren holds grudges, and takes delight in smashing his enemies.

Misanthropic - Søren holds a general disdain for the people he's trying to fit in with.
LIKES
Silver.

Running free under the full moon.

Chocolate.

Blood.

Wolfsbane.

Tattoos.

Beautiful women.

Spicey food (particularly Thai).
DISLIKES
The human race.

Anti-werewolf legislation.

Harry Potter.

Sleep deprivation.

Clipping his fingernails (Have you ever tried to clip claws before? It's more difficult than you think!).

High pitched or loud noises.
SECRETS
Søren doesn't want to take up the role of pack leader, despite what he tells his pack mates.

Søren misses his mother, and wants to search out her family (if there are any of them left).

Søren is very moral, and has decided to save himself for his life mate.

Søren is addicted to Wolfsbane. He hates himself for it, but doesn't know how to stop.

Søren loves Life, and hates that Fenrir is breeding him to destroy it.
HABITS
When nervous, Søren will usually bite his nails, or his lower lip. Upon feeling irritation or disgust, Søren will usually click his tongue against his teeth.
AMBITIONS
To become Minister of Magic, overthrow the anti-werewolf legislation, and lead his pack into a new age of hope and glory.
FEARS
Søren fears, above all, Fenrir. He is afraid that one day, Fenrir will decided that keeping him alive was a mistake, and kill him. Søren also fears discovery of his secret by the wrong people, and the consequences it would bring. Søren also fears rejection, heart break and being expelled.
PATRONUS, WHY
Søren's patronus is a penguin. Like the penguin, Søren is mysterious and will only show you the side of him that he wants you to see.
BOGGART
Søren's boggart is Fenrir rendering him a failure and then killing him.
AMORTENTIA
Blood, and the scent of fresh earth. This comes from the nature of who Søren really is. Also, coffee and chocolate truffles because they are Søren's favourite.
don't lose my picture ;; you'll need it again next time i know
APPEARANCE
PLAY BYEYE COLORHAIR COLOR, STYLE
Ashen white blonde, short and spiky. Sometimes Søren will dye it a light brown.
SKIN COLORWEIGHT, HEIGHT, BUILD
220 lbs, 6'4", lean but very built.
CLOTHING STYLE
Søren will dress in whatever makes him feel comfortable that day. His style ranges from urban/hip hop to vintage rock.
VOICE, LANGUAGE, ACCENT
Søren has a very raspy, low voice, because he doesn't often speak. If you do get him talking for a period of time, his voice becomes very smooth and velvety. He speaks fluent Norwegian, Russian, German, and Bulgarian. His accent has faded considerably, but if you listen carefully, you can still hear that Norwegian drawl creeping through.
SCARS, TATTOOS, PIERCINGS
Søren has a large set of wolf eyes tattooed on his shoulder blades, with moons in the pupils. He also has a fair collection of long jagged scars across his chest and back, which he obtained through fights and hunting with his pack. Fenrir's bite mark is still fairly visible on Søren's chest; a perfect oval bite impression above his heart.
DISTINGUISHING FEATURES
His eyes distinguish him most of all. Most people he comes across remember his eyes most of all. Søren also gets the occassional comment about how muscular he is, only being 16 and all.
we stood like statues at the gate
[/B][/COLOR][/size]
FAMILY[/center]
MOTHER
Elisaveta Bjørnstad-Karkaroff, 17, house wife.
FATHER
Andrei Karkaroff, 44, blacksmith and believed Death Eater.
SIBLINGS
None. Søren was an only child.
GRANDPARENTS
On his father's side, Andon and Bogdana Karkaroff, both deceased. On his mother's side, Gunhild and Janikke Bjørnstad, both deceased.
AUNTS AND UNCLES
Father's brother, Igor Karkaroff, Durmstrang professor, deceased. Others unknown.
COUSINSFAMILY FRIENDS
Søren's father alienated himself from any kind of friendly contact. The only 'family friend' type realtionships that were built for Søren was when the pack would stay with the families of Death Eaters, such as the Lestranges.
an ending no one's ever heard
HISTORY[/center]
PERSONS OF IMPORTANCE
Fenrir Greyback, Søren's adopted father and maker.
Clare Smart, Søren's girlfriend.
NATIONALITYHOMETOWN
Unknown. Søren was born and raised in a small village in Bulgaria. It was purged and burnt to ashes by Fenrir's pack.
CURRENT RESIDENCE
Søren owns a small flat in London, near Diagon Alley. He bought it the summer before coming to Hogwarts, to live in while on holidays.
WEALTH STATUS
Søren is very wealthy. With the death of his father, Søren inherited a small fortune. Andrei Karkaroff was very wise with money, and was friends with the head goblin of Gringotts. The goblins invested the money for him, and it grew expontentially. It is still growing.
OVERALL HISTORY
Born Ivan Petar Karkaroff in the dying remnants of a harsh winter, Søren had a difficult childhood. His father, Andrei, wanted nothing to do with him because Søren had all of his mother's pale Norwegian features, instead of his dark Bulgarian ones. He showed his affection with a whip and harsh words. Søren's mother was loving and attentive, but often left Søren alone in favor of her liquor bottle. One night when Søren was shy of five years old, his village was attacked and pillaged by Fenrir Greyback, the werewolf, and his pack. Everyone had been slaughtered, but for some reason, Søren had been spared. Fenrir saw something in him, and took Søren as his own. Søren was turned, and he never saw his home again.

Life with Fenrir and his pack was difficult at first, but Søren was able to adjust within a short time. Søren was schooled vigorously in the history of his new werewolf family, the history of Voldemort's endeavors and the evils of society. Fenrir taught his new student to be brutal, to be ruthless and have no mercy for humans, as they were his prey, his food and nothing more. Prey didn't deserve pity. The nomadic existence took Søren all over Europe. He learnt the tricks of his pelt and along side his brethren, he rampaged villages and destroyed farms.

During the summer of Søren's eleventh year, his letter from Durmstrang arrived. Fenrir was reluctant to send Søren to school, as it was seen as something real werewolves just didn't do. Søren was able to convince Fenrir in the end, throwing around the idea that he could spread the werewolf infection to fellow students. Fenrir accepted, and Søren was put in Durmstrang.

After completing his first five years of schooling at Durmstrang without incident, a female student found out about Søren's addiction to Wolfsbane. She confronted him, and he was forced to use a powerful memory charm on her and flee the school. He went back to Fenrir, and the pack moved on to England. Wanting to finish what he'd begun in school, Søren was enrolled in Hogwarts School of Witchcraft and Wizardry.
this stage of oblivion I find comfortable
[/COLOR][/B]
SCHOOL LIFE[/center]
SOCIAL STATUS
Søren is a bit of an outcast because most students find him extremely intimidating. If it weren't for his best friend Jonathan Macnair, Søren would have no social life whatsoever.

Søren does very well in school, and the teachers find him a pleasant but silent student.
ALLIANCECOURSES AND GRADES
Potions - O

Charms - O

Defense Against the Dark Arts - O

Transfiguration - E

Divination - E

Herbology - O
FAVORITE CLASS, WHY?
Potions is Søren's favourite class because not only is is easy for him, he can brew up his Wolfsbane without anyone being the wiser.

LEAST FAVORITE CLASS, WHY?
Divination. Søren sees no real use for it. He would rather be in the here and now, than worry about tomorrow.
O.W.L AND N.E.W.T SCORES
Søren did not take the O.W.L exams, because Durmstrang runs on a different curriculum and testing method.
THOUGHTS ON GRADES
Søren is very pleased with how well he does. He prides himself on his successes, but remains humble.
the moment you said goodbye
YOU
NAME
TIMEZONEOTHER CHARACTERS
None at the present time.
HOW YOU FOUND US
Cait's been my girl since eight grade.
WHAT YOU LIKE ABOUT US
Everyone here is very talented, and kind. No one makes fun of me for being a n00b.
WHAT YOU DON'T LIKE ABOUT US
MISCELLANEOUS
I have a personal domain, corpseflowers.org - my novel featuring Søren will be posted there sometime in the future.
[/COLOR]