Post by Valencia Scamander on Mar 31, 2009 1:43:54 GMT -5
L U C A S
auror
ministry of magic
[/color]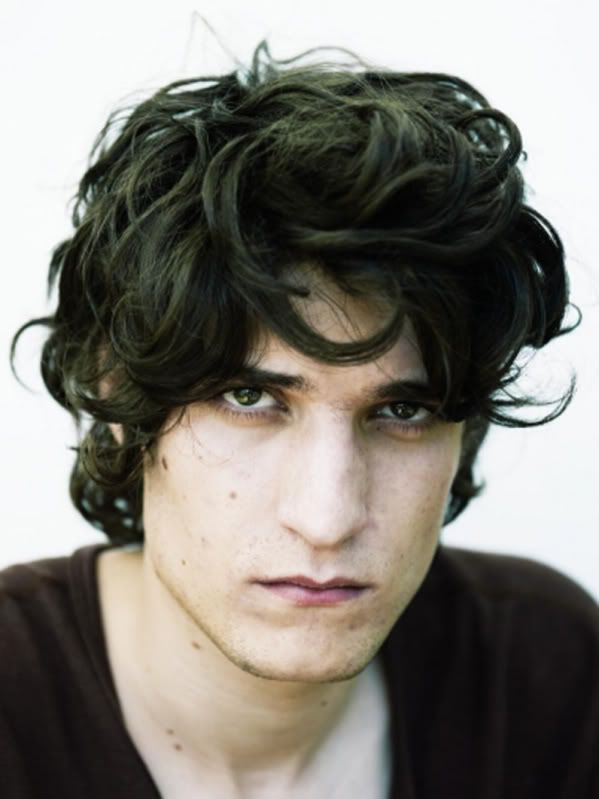 age
twenty one
blood
pure
alliance
heirs of voldemort[/center]
I,
Lucas Oliver Cripps
, confirm that the above information is true. I claim that I am a
heterosexual male
. I confirm that I am a practicing
nihilist
and that the current wand on display,
9 1/4 inches, Yew with Augurey tail feather,
is mine, and if asked, I can present evidence of my
human
status. I currently do own
a turtle
and my patronus is best defined as a
a chameleon
---
PERSONALITY

Likes



The color forest green (His slytherin upbringing and his natural love of dark colors)

Old furniture (40 years or older)

Nietzsche (He's a Nihilist, what do you think?)

His turtle, Mr. Checkerbox (Self-explanatory; besides, he's cute, even though Lucas would never admit to that as a reason)

The smell of old paper (Loved the library, both at his family's mansion and at Hogwarts)

Small animals (Much more manageable, and generally calmer, than the large variety)

History (particularly his family's)

Junk food (guilty pleasure)

Shakefire (secret love)

Cleanliness (Part of his neat freak personality)

Jogging (Physical activity that requires very little effort and no balls thrown at him)


Dislikes



Large houses (He fell down the stairs as a kid, and is the opposite of claustrophobe

Needles (Irrational from childhood)

Kant (He says he uses God as an explanation for everything)

French Food ("they eat snails, perhaps the most disgusting animal on earth!")

Cats (Fear of cat scratch fever)

Hyperactive people (They irritate him and cause a mess)

Graffiti (Why tarnish something beautiful?_

Indian food(irrational fear; got food poisoning when he was five)

Traveling by anything but magical means(motion sickness)

Paperwork (least entertaining part of job)

Crowds (he's shy and doesn't like people bumping into him)



Strengths



Strong-willed

Charming

Devoted

Logical

Loving

Loyal


Weaknsses



Stubborn

Shy

Histrionic

Cold

Fragile Temperment

Questions Authority(doesn't confront)




---
PLAY BYEYESHAIR COLOR AND STYLE


Very dark brown/black

Curly

Not styling, excuse is "bedhead is in."

SKIN COLORWEIGHT, HEIGHT, BUILD


145

5'9

A skinny average build

Works out-necessary for job, jogs a lot. Not a hobby.

CLOTHING STYLE


Mix of Muggle and wizard clothes

Ties and sweaters

Black skinny jeans

Dislikes cold weather; thus always wears thick clothing

Ridiculously long scarf- trademark

"gloomy" "simplistic"

dark colors




VOICE, LANGUAGE, ACCENT


Deep

Montone

Ian Curtis-Esque.

British Accent, Upper class.

Also speaks German.

DISTINGUISHING FEATURES


No tattoos or piercings- fear of needles.

Has gash on his knee, crestent shaped(ends pointing up to face) scar from when he fell downstairs.

Burn mark on left sholder, very large, not severe, slight dicoloration. Got on first auror assignment

---
MOTHER
Anya Tenenbaum, Forty-Nine, Socialite
FATHER
Thomas Cripps, fifty-two, Ambassador to Germany for Ministry.
SIBLINGSGRANDPARENTSAUNTS AND UNCLES
Fredrick Tenenbaum, Fifty-Three, Banker
Nina Tenenbaum, Fifty-two, House Wife.
Wilhelm Tenenbaum, Forty-five, adventurer
COUSINS

--- --- Tenenbaum, Twenty-three
--- --- Tenenbaum, Nineteen.

SIGNIFICANT OTHERS
Collin Creevey, aged 22, Baker- Frenemies
Sofia Flint, aged twenty one- Fuck buddy
Irene Douglass, aged twenty, Annoyance/Secret Friends.
Marcella Lestrange, Forty-Seven, Idol.

---
NATIONALITY
British, duel citizenship with Germany
HOMETOWN
A mansion overlooking Tottington, Manchester.
CURRENT RESIDENCEWEALTH STATUS
Upper-class, family slowly going bankrupt.
---
HISTORY
Childhood



Born July 26th, 2005, to Thomas and Anya Cripps.





---
I, Jacob, lord and master of the shadowdark, promise and swear that the above application is of my own creation. I claim that I am a male living in the mountian timezone. After finding this site through the original/Zee, I promise to try and be the best member I can be by following all of the rules that have been set for me as an exceptional member of WITH STREAKS OF BLOODY RED.